AMOR FATI
Cláudia Varejão | Portugal 2020 | 102 Min. | OmeU
ONLINE ON SUNDAY MAY 9TH & MONDAY MAY 10TH
AVAILABLE ONLY IN AUSTRIA
Austrian Premiere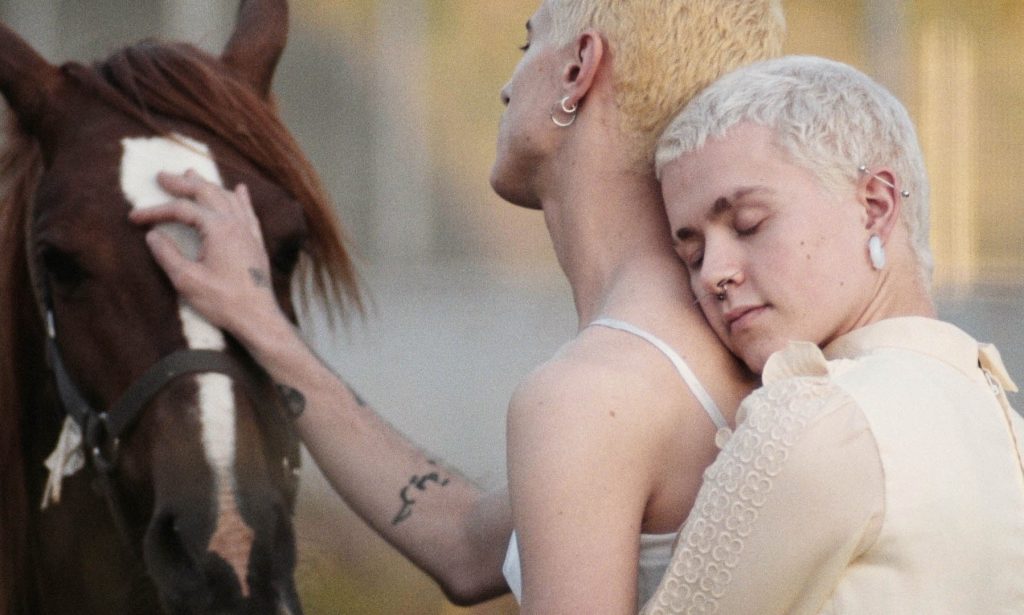 Amor Fati seeks out parts that complete each other. These are portraits of couples, friends, families, and animals with their owners. They share the intimacy of daily life, habits, beliefs, tastes, and even some physical traits. Their facesand the choreography of their gesturesunveil the storiesthat entwine them.
A film full of affection that evokes a unique vision of love following Aristophanes' speech at Plato's Symposium: "Isn't that what you aspire to – to identify each other as much as possible so that you no longer part ways night and day? If that is your aspiration, I am willing to merge and weld you in one piece so that, instead of two, you become one."
Director and Image: Cláudia Varejão (she/her)
Editing: João Braz (he/him), Cláudia Varejão
Sound: Cláudia Varejão, Takashi Sugimoto (he/him), Adriana Bolito (she/her)
Sound Editing: Elsa Ferreira
Sound Design: Daniel Almada, Elsa Ferreira
Sound Mix: Hugo Leitão, Daniel Almada
Color Correction: Paulo Américo
Design: Ilhas
Production: João Matos (he/him), Vadim Jendreyko (he/him), Jérôme Blesson
presented by
Screenings
Visions du Réel, Switzerland '20
Open-Air à Fribourg, Switzerland '20
Doclisboa, Portugal '20
Caminhos do Cinema Português, Portugal '20
Solothurner Filmtage – Journées de Soleure, Switzerland '21
---
Biography
Claudia Varejão was born in Porto and studied at the Creativity and Artistic Creation Program of the Calouste Gulbenkian Foun¬dation, in partnership with the German Film und Fernsehakade-mie Berlin and the São Paulo International Film Acadamy. She also studied Photography at AR.CO in Lisbon. Claúdia is the author of the short film trilogy Weekend, A Cold Day and Morning Light. Ama-san, a portrait of japanese divers, was her feature debut, receiving dozens of awards around the world, followed by In The Darkness of the Theater I Take Off My Shoes, a film that shows the intimacy between a group of dancers within a dance company. Amor Fati is her latest film scheduled to premiere in 2020 and in Wolf and Dog, in development, she will return to fiction. Cláudia's films have been selected for and awarded at the most prestigious film festivals, including Locarno, Rotterdam, Visions du Reel, Cine¬ma du Reel, Karlovy Vary, Art of the Real – Lincoln Center, among many others. Besides her work as a filmmaker, she developed a career as a photographer and she's a guest professor at AR.CO and the Catholic University of Porto. Her work, whether in film, photography, documentary or fiction, is based on its proximity to the people portrayed.