MANY CHICKENS, LOTS OF LUCK – BANYAK AYAM BANYAK REJEKI
Riboet Akbar, Önar Önarsson | Indonesia 2020 | 101 Min. | OmeU
ONLINE ON WEDNESDAY MAY 12TH & THURSDAY MAY 13TH
AVAILABLE ONLY IN AUSTRIA
International Premiere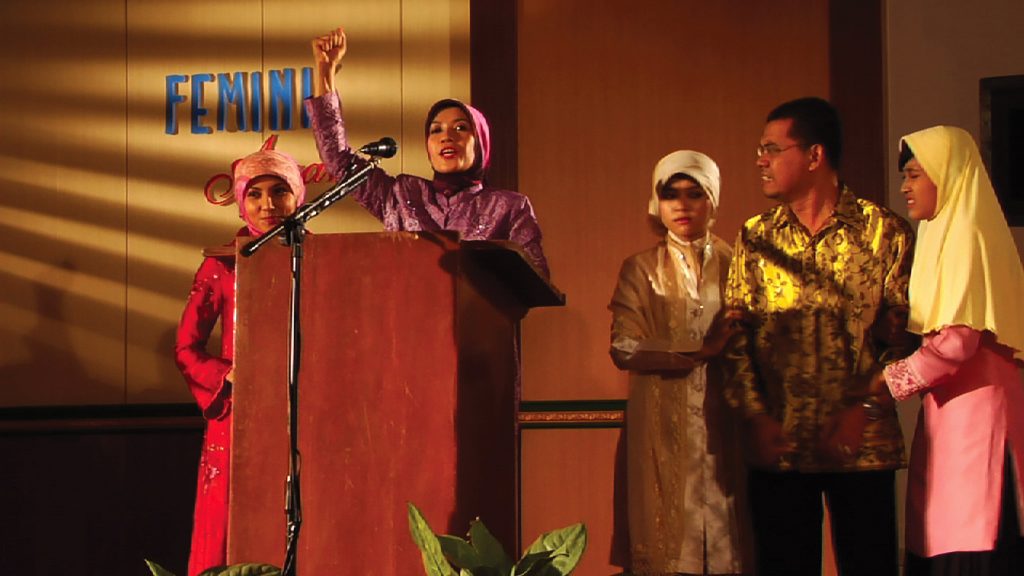 On the first day of shooting a promotional video for the Indonesian Arjun, a street food icon and polygamist, the Swedish assistant director is hit on the head by a durian fruit and falls into a coma. When he wakes up, he thinks he is Javanese and insists on taking a "feminist" approach in his film and dramatizing the struggles of Arjun's wives in a public forum. Subsequently Arjun is ruined, but then his mysterious second wife shows up to save the family's reputation.
Made over the course of 11 years, MANY CHICKENS, LOTS OF LUCK is an entertaining tightrope walk between docufiction, real satire, and long-term documentary that accompanies societal change in Indonesia. It's a social critique with charm and wit that resonates for a long time to come.
Directors: Önar Önarsson (he/him), Riboet Akbar (he/him)
Producers: Koes Yuliadi (he/him), Dag Yngvesson (he/him)
Writers: Dag Yngvesson, Koes Yuliadi , Windi Wahyu Ningtyas (she/her)
Cinematographer, Editor, Sound: Önar Önarsson
Screenings
Festival Film Dokumenter (FFD), Yogyakarta, Indonesia. November 26-December 14, 2020 (domestic premiere). Online (restricted to local IP) and offline.
Malaysia International Film Festival (MIFFest), Kuala Lumpur, Malaysia. January 15-21, 2021 (2nd domestic premiere). Online (restricted to Malaysian IP).
---
Biographies
Önar Önarsson was a Swedish graduate student studying gender and power in Indonesia. After a tragic incident with a Durian, Önarsson developed a strange obsession with the late director Nya Abbas Akup, proclaiming him the "Marxist-feminist Ingmar Bergman of Indonesia." Driven to make similar films, his work with videographer Riboet Akbar quickly evolved into something far stranger than either could have imagined. Önarsson is currently hiding out in Malaysia under the pseudonym "Om Duck."

Riboet Akbar was a legendary mobile cinema operator and emcee working in Yogyakarta and Central Java. Wiped out in the late 1980s by the spread of television and the exciting new "drilling" dances performed at Dangdut music shows, Akbar has since supported himself as an event videographer, promoter and multimedia impresario. His specialty is perking up flagging local food businesses with innuendos and sexualized imagery that he guarantees to increase sales. This is his first "art" film.