ECSTASY
Moara Passoni | Brasilien 2020 | 75 Min. | OmeU
ONLINE AM SAMSTAG 8.5. & SONNTAG 9.5.
PODIUMSDISKUSSION AM SONNTAG 9.5. UM 17:00
NUR IN ÖSTERREICH VERFÜGBAR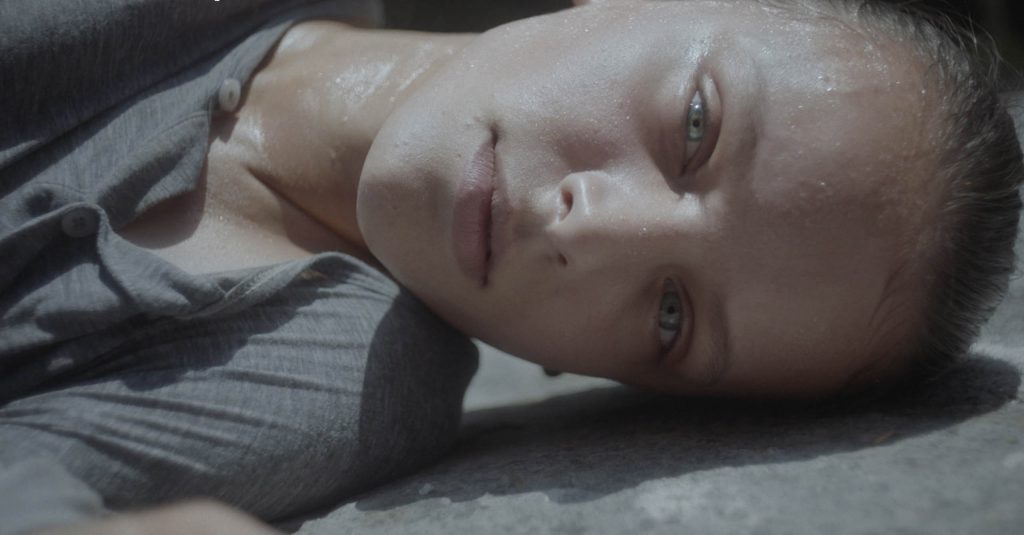 In ihrem Debütfilm erzählt Moara Passoni die Geschichte ihres Alter Egos Clara im Alter von sieben bis 18 Jahren. Aufgewachsen unter der strengen Aufsicht geistlicher Schwestern sind Angst und Verletzlichkeit für Clara omnipräsent. Nur über ihren Körper kann sie selbst entscheiden, und so flüchtet sie sich in die selbstzerstörerische Ekstase der Magersucht. Schwerelosigkeit und Transparenz der lichtdurchfluteten Bilder stehen den geometrischen Formen der Architektur Brasilias gegenüber und visualisieren in sensibler Ästhetik und inszenierten Sequenzen eine Metapher des Körpers.
ECSTASY reflektiert einen zehnjährigen Kampf gegen die Magersucht und thematisiert die unterdrückerischen Muster unserer heutigen Welt auf den eigenen Körper.
Director, Writer, Producer: Moara Passoni
Producer: Petra Costa
Writer, Editor: Fernando Epstein
Writing and Editing Collaborator: David Barker
DOP: Janice D'Avila
Original Score: Ismael Pinkler
Sound Design: Cecile Chagnaud
Sound Design and Mix: Edson Secco
With Music By David Lynch and Lykke Li

Awards and Screenings
Prix D'Innovation Daniel Langlois – Montréal Festival of New Cinema (Canada) (2020)
Youngsters 16 + Award / Best Film – Lucas International Festival of Films for Children and Young People (Germany) (2020)
Jury Award of the Brazilian Cinema Critics Association – São Paulo International Film Festival (Brazil) (2020)
Prix of the Portuguese Association of Authors – Porto/Post/Doc Film & Media Festival (Portugal) Nominations (2020)
CPH:DOX Awards (Denmark) (2020)
Best Film Unipol Award International Competition – Biografilm Festival (Italy) (2020)
Discovery Award – International Women's Film Festival Seoul (South Korea) (2020)
Audience Award – Millennium Docs Against Gravity (Poland) (2020)
TVP Kultura Award – Millennium Docs Against Gravity (Poland) (2020) Louve D'Or – Montréal Festival of New Cinema (Canada) (2020)
New Directors Competition – São Paulo International Film Festival (Brazil) (2020)
Up & Comming Competition – This Human World (Austria) (2021)
Aurora Award – Tromso International Film Festival (Norway) OFFICIAL SELECTION (2020)
Visions du Réel (Switzerland) (2020) Semana del Documental
Doc Montevideo (Uruguay) (2020) Mostra Doc SP (Brazil) (2020)
IFF Pacific Meridian in Vladivostok (Russia)
---
Biography
Moara Passoni is graduated in Sociology, Anthropology and Political Sciences at University of São Paulo, studied Dance & Performance at PUC/SP and Philosophy & Aesthetics at Paris 8 University. After finishing a master in Film & Documentary at UNICAMP, she joined an MFA on Screenwriting & Directing at Columbia University, New York City, where she is a current candidate. Moara recently co-wrote and associate produced "The Edge of Democracy" (2019). In addition to the Academy Award nomination for Best Documentary, the film was nominated for best narration/writing by The Critics' Choice Awards and the International Documentary Association. Passoni also co-wrote and served as a producer on "Olmo and the Seagull" (2015), which won the Junior Jury Prize for Best Documentary at Locarno and was a producer on "Elena" (2012), which premiered at IDFA in 2012. "Geometry of Hunger" (2020) is her feature-length directorial debut.