SEAHORSE – SEEPFERDCHEN
Nele Dehnenkamp | Germany 2020 | 16 Min. | OmeU
ONLINE ON MONDAY 10TH & TUESDAY 11TH | PART OF THE SHORT FILM PROGRAMME IN BETWEEN
AVAILABLE IN AUSTRIA ONLY
Austrian Premiere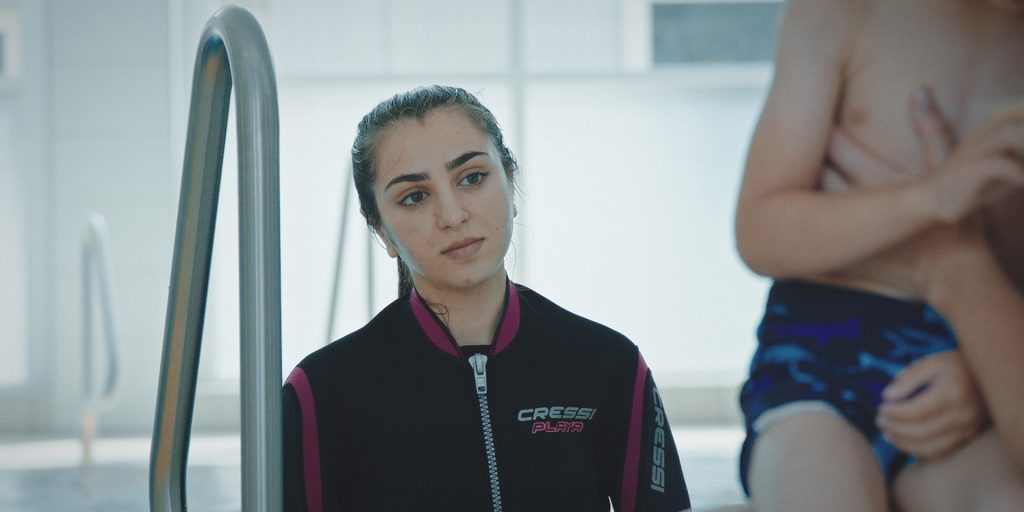 While the Mediterranean Sea is slowly disappearing from the collective European memory as a mass grave of refugees, it is impossible for those directly affected to forget the perilous crossing. When teenage Hanan fled from ISIS to Europe in an inflatable boat, she did not yet know how to swim and almost drowned. Today, she accompanies her brother to his swimming lessons. The first swimming badge is called Seahorse, "because a seahorse can't drown, "the instructor explains.
In SEAHORSE, Hanan tells her story in a determined and simultaneously fragile voice, in which an ordinary swimming pool becomes a place of recovery and reappraisal.
Director: Nele Dehnenkamp
Producer: Christine Duttlinger, Nele Dehnenkamp
DOP: Tobias Winkel, Sina Diehl
Editor: Jana Briesner
Sound: Johann Meis, Simon Droessler
Compositing: Jana Irmert
Sound Design: Johann Meis
Score: Paul Chriske
Screenings
Thessaloniki Documentary Festival2021
Festival du Court Métrage de Clermont-Ferrand2021
Big Sky Documentary Film Festival 2021
Filmfestival Max Ophuels Prize 2021
International Leipzig Festival for Documentary and Animated Film 2020 (German Premiere)
International Documentary Film Festival Amsterdam- IDFA 2020 (International Premiere)
---
Biography
Nele Dehnenkamp is a documentary filmmaker based in Berlin. She is studying directing at the Film Academy Baden Wuerttemberg and holds a Master of Arts in social sciences from Humboldt University Berlin. Inspired by her background in sociology, her work focuses on character-driven observations that reveal patterns of social inequality. Her short films have been screened at various festivals, including IDFA, Dok Leipzig and Filmfest Dresden. She is currently directing her first feature-length documentary, which was shot over a period of seven years. The film tells the story of an African-American mother who fights tirelessly for her family while her husband is held in a maximum security prison.